Thanks to a gift from the Ronald Whittier Family Foundation, creative writing graduate students had the chance to attend the Association of Writers & Writing Programs (AWP) conference in Seattle in March. This annual conference gathers thousands of writers, students, editors, and publishers. "Experiencing such a breadth of authors and poets from across the world coming together for the love of all things literary was very inspiring and energizing," said Meredith Cottle, MFA student in poetry.
Writers gave a wide range of readings and talks. "Each left me feeling inspired and excited to sit down and write," said Imogen Osborne (poetry).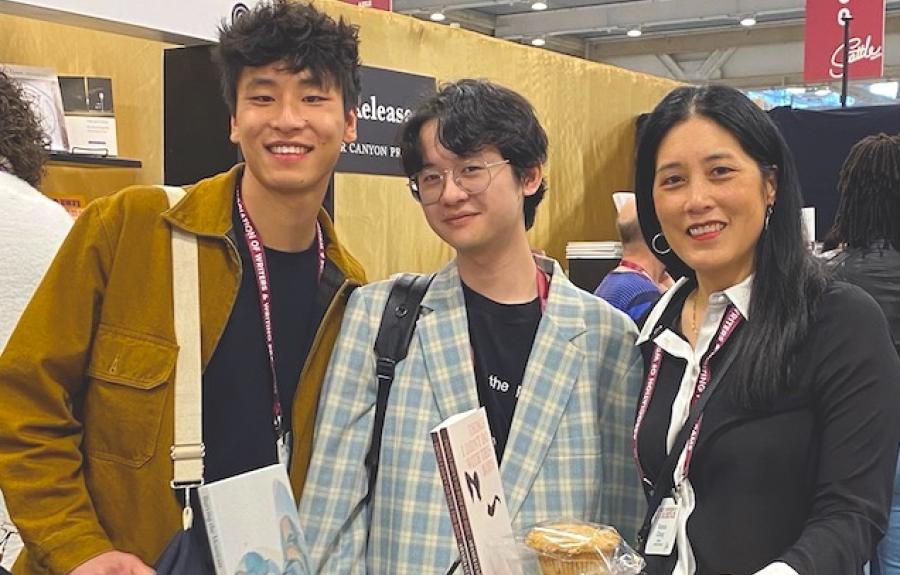 The heart of the event is the Bookfair, where small presses exhibit and sell books, magazines, and other merchandise. It's a great opportunity for students to meet their peers at other institutions, for editors to exchange advice, and for everyone to read up on what's new in the field. Aishvarya Arora (poetry) said that their favorite part of the AWP conference was "the opportunity to build community with and learn from many of the writers I admire." 
This was EPOCH's first year as an official Bookfair participant, and Cornell MFA students staffed the table, sold copies of the magazine, and did some professional networking. They also had the opportunity to sample magazines that they might someday submit to. 
The EPOCH team is especially proud of the newest issue. Each year, Cornell's cohort of first-year MFA students work as assistant editors for the magazine. In addition to providing new students with funding—which helps to make Cornell's MFA program a fully-funded one—working for the magazine is a unique professional experience. Jianchen Wang (fiction) said he was delighted to meet numerous Cornell graduates at the Bookfair, along with one of the authors featured in the latest issue of EPOCH.
"What a dream it's been to spend the past few days talking and thinking about writing at AWP," said Samantha O'Brien (fiction).